Webb Orthodontics Blog
October 4, 2021
Gov. Ricketts Presents 2021 Medicaid Provider Awards
Date:October 04, 2021
Information provided on: Media Release: Gov. Ricketts Presents 2021 Medicaid Provider Awards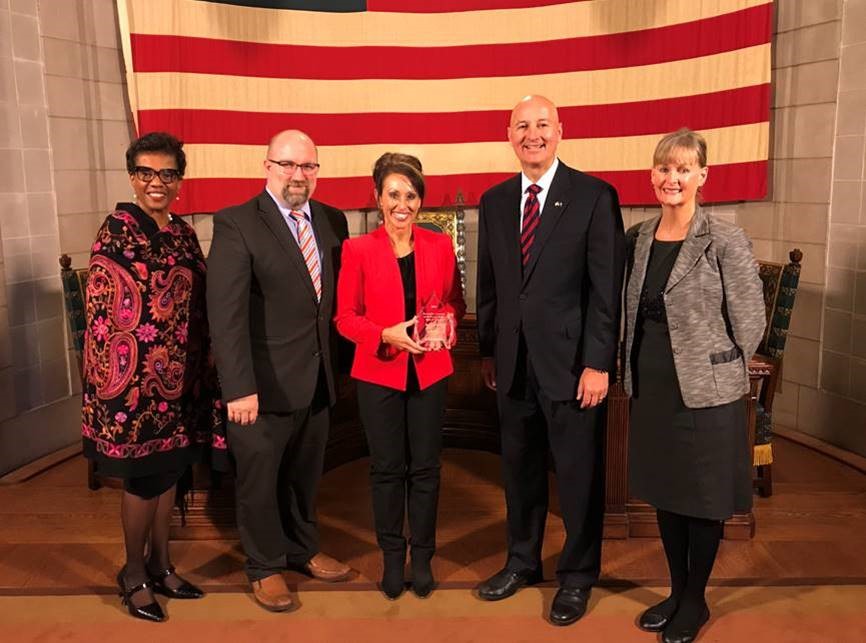 From left to right: (DHHS CEO Dannette R. Smith, DHHS Director of Medicaid and Long-Term Care Kevin Bagley, Dr. Sami Webb, Gov. Ricketts, Dr. Paula Harre)
LINCOLN - Today, Governor Pete Ricketts; Dannette R. Smith, CEO of the Department of Health and Human Services (DHHS); and Kevin Bagley, Director of the DHHS Division of Medicaid and Long-Term Care, honored four doctors with Nebraska Medicaid Provider awards. The awards recognize outstanding providers within Heritage Health Adult, Nebraska's Medicaid program.
"The winners of the Nebraska Medicaid Provider Awards delivered great customer service and responsibly stewarded taxpayer dollars," said Gov. Ricketts. "They help deliver on DHHS' mission to help Nebraskans lead better lives. Thank you to each of the award winners for your contributions to improving services for the people of Nebraska."
Gov. Ricketts awarded one winner from each of the managed care organization (MCO) networks and dental plan. The MCOs are UnitedHealthcare Community Plan of Nebraska, Nebraska Total Care, Healthy Blue of Nebraska, and MCNA Dental. Award recipients were selected for having demonstrated exceptional care to the Medicaid population and measurable contributions during the pandemic through their clinical practice. Winners were nominated from within each of their respective organizations.
"We are extremely grateful to our Medicaid providers who help their fellow Nebraskans live better lives," said Director Bagley. "During a difficult year, these providers went above and beyond in providing excellent service to our Medicaid members. These awards recognize their contributions to the Medicaid program and their commitment to improving the health of their community."
Dr. Sami Webb was an honoree of the Nebraska Medicaid Provider Award.
About Dr. Sami Webb
Dr. Sami Webb: Nominated by MCNA Insurance, Dr. Webb is the only full-time resident orthodontist in Western Nebraska participating in the Medicaid program. She has been in practice for 16 years in Scottsbluff, providing high-quality orthodontic care and serving the unique needs of children enrolled in the Nebraska Medicaid Program. After earning her undergraduate degree at the University of Nebraska-Lincoln, Dr. Webb completed her Doctor of Dental Surgery (DDS) degree at the University of Nebraska Medical Center College of Dentistry.
A member of the Schulman Group, whose members represent the top two percent of orthodontists practicing in the United States, Dr. Webb has been recognized on multiple occasions for practice growth and innovative marketing efforts, served on several committees (including the New Membership Committee and the Steering Committee), and accepted appointment to the Board of Directors.
Her practice, Webb Orthodontics, currently serves patients out of the Elite Health Center, a state-of-the-art medical office complex housing multiple dental and medical specialties and other businesses. As a community leader, Dr. Webb is deeply committed to giving back to others both personally and through her practice, leading Webb Orthodontics to partner with organizations and key community stakeholders.
Since its inception, Dr. Webb's practice has given $500,000 in sponsorships and donations to strengthen and support her community. She and her team at Webb Orthodontics seek out opportunities to volunteer their time to help non-profit groups and work with area schools to provide on-the-job shadowing and internship opportunities for young adults who are interested in the dental profession. They also participate in community events, providing free dental care and services to those in need. Dr. Webb's focus on community service and support, and her continuing dedication to serve those enrolled in Nebraska Medicaid, allow her to positively impact the lives of her patients, their families, and her community.